Nos maitres les fous / Our Mad Masters

Commissaire: Anne-Marie St-Jean Aubre, a été présenté au Musée d'art de Joliette du 7 octobre 2017 au 7 janvier 2018 et sous un projet différent à la galerie d'art d'Outremont (La vie politique des animaux) du 5 au 29 avril 2018.




Quebec artist Cynthia Girard-Renard is well known for her offbeat approach to her visual, performance, and literary works. The recent series of satirical portraits brought together for this exhibition feature anthropomorphized animals, which are given voice in an accompanying mobile. Raised to the rank of historical figures according to the hierarchy of painting genres, these animals joyously display their objections as they call for revolt or unmask spirals into authoritarianism – following in the footsteps of their illustrious predecessors Hannah Arendt, Frantz Fanon, and Donna Haraway. By using humour, caricature, and inversion of situations, along with bright colours and childlike motifs, GirardRenard creates a sense of surprise among viewers, who must look closely to decipher the playlet that she thinks up in order to comment on the evils of society.
The title of this exhibition, which is also that of the group of paintings, is a nod to Jean Rouch's anthropological film The Mad Masters (1955), in which the filmmaker made a creative and personal documentary – with the active participation of his subjects – of the ritual practices of followers of the Hauka cult in Accra, at the time the colonial capital of Ghana. By imitating and appropriating the symbols of colonial power during their religious ceremonies, the Africans, well aware that they were being filmed, made British customs – very familiar to Westerners – seem so exotic that they were no longer associated with the violence for which they are, in fact, an affirmation. What is played out in this ambiguous theatre in which imitation verges on brazenness? For it is in fact through the diversion of symbols liberated by improbable and irreverent associations that the power of the Other – animals, the land, migrants – to act or resist is manifested. This productive tension provides the spark for Girard-Renard's works and serves as a principle of articulation in the festive mash-up that she stages.
La Fontaine's fables and Perrault's tales were clearly touted as pedagogical narratives, intended for transmission of a generally accessible moral, but Girard-Renard rejects this overly self-assured didactic posture. The hungry mouths, the staring eyes, the characters floating against a background that could suck them in or spit them out, and the almost sickeningly sweet colours give us a glimpse of malaise: that of a privileged, individualistic society focused on its needs, engaged in an obscene process of exploitation, and, through its self-devouring actions, gaily rushing headlong into a wall!

L'artiste québécoise Cynthia Girard-Renard est bien connue pour son approche décalée teintant tout autant ses œuvres visuelles, performatives que littéraires. La récente série de portraits satiriques rassemblés dans cette exposition met en scène des animaux aux comportements humains, auxquels fait écho un mobile qui prête voix à ses personnages. Élevés au rang d'acteurs historiques selon la hiérarchie des genres en peinture, ces animaux affichent joyeusement leurs désaccords. Appelant à la révolte ou démasquant les dérives autoritaires, ils font suite à leurs illustres prédécesseurs, Hannah Arendt, Frantz Fanon ou Donna Haraway. L'humour, la caricature, le retournement de situations sont les principes selon lesquels Girard-Renard opère, séduisant par ses couleurs vives et ses motifs enfantins pour mieux surprendre le lecteur, attentif à décoder les saynètes qu'elle imagine afin de commenter les maux de notre société.
Le titre de cette exposition, qui est aussi celui du corpus de toiles, est un clin d'œil au film anthropologique Les Maîtres fous (1955) de Jean Rouch, documentant de manière créative, subjective et participative les pratiques rituelles des adeptes du culte Hauka à Accra, alors la capitale coloniale du Ghana. Par l'imitation et l'appropriation de symboles du pouvoir colonial lors de cérémonies religieuses, les protagonistes africains, filmés en toute connaissance de cause, rendent exotiques et étrangères ces coutumes britanniques auxquelles un regard occidental est habitué au point de ne plus y associer la violence dont elles sont, pourtant, une affirmation. Qui se joue de qui dans ce théâtre ambigu où la mimesis frôle l'effronterie ? Car c'est bien par le détournement de symboles libérés grâce à des associations improbables et irrévérencieuses que se manifeste le pouvoir d'action ou de résistance de l'altérité – les animaux, la terre, les migrants. Cette tension productive nourrit les︎︎︎ œuvres de Girard-Renard et sert de principe d'articulation au mélange festif mis en scène par l'artiste.
Si les fables de la Fontaine ou les contes de Perrault s'affichaient clairement comme des récits pédagogiques, visant la transmission d'une morale généralement accessible, les œuvres de Girard-Renard refusent cette posture didactique trop sûre d'elle-même. Les bouches avides, les regards fixes, les personnages flottant sur un fond prêt à les aspirer ou à les propulser, les couleurs sucrées jusqu'à l'écœurement, finissent par laisser transparaître un malaise. Celui d'une société privilégiée et individualiste centrée sur ses besoins, engagée dans un processus d'exploitation outrancier et qui, par ses actions autophages, fonce gaiement et à tout allure dans un mur !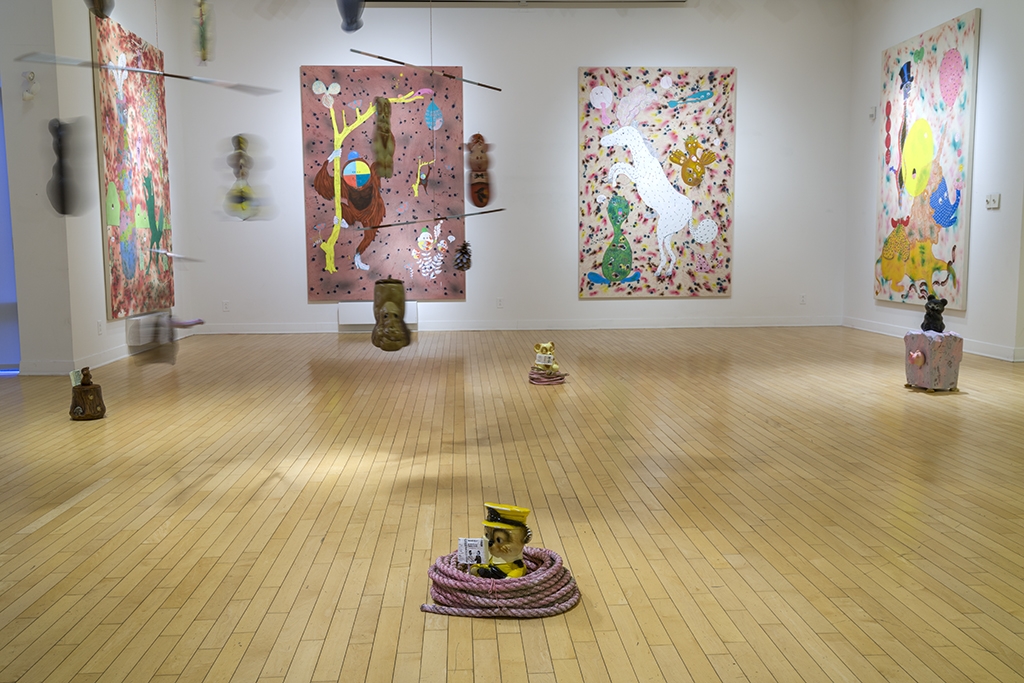 24–09–2024